Aerosmith has released Aerosmith Hit It Rich slot!
If you are a fan of Aerosmith and cannot live without their performances and rocking tunes, you will be glad to hear about the release of this new social slot machine from Zynga.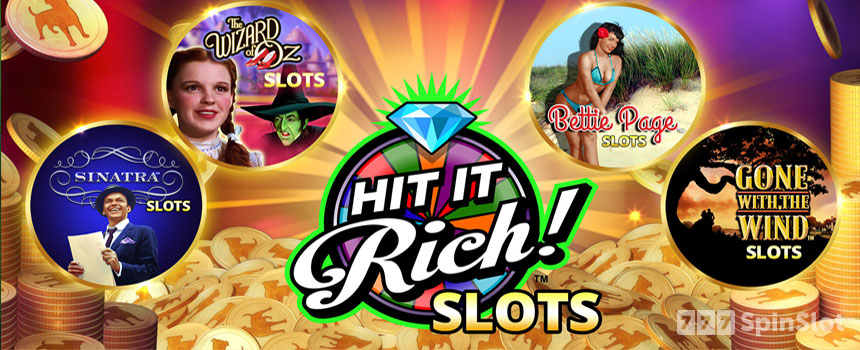 Cooperating with Aerosmith and Epic Rights, American provider of video games for social networking Zynga has released a new slot Hit It Rich! The brand new game unites the fun and the ability to spin in a casino game full of rock & roll styles of Aerosmith. So, do not miss the opportunity to play this slot!
Joe Perry from Aerosmith told about the new release. "Zynga has taken the personality and attitude of Aerosmith the band and translated it to a mobile game experience," he said. "The social aspect is very cool. I'm sure we'll be seeing high-score challenges waged in-game amongst all of our fans around the globe."
About Hit It Rich!
Social games Hit It Rich! from Zynga have become one of the free applications for iOS and Android devices, as well as for desktop and Facebook users. Casino Zynga is famous for adapting its branded slot machines to free applications, giving simple Internet users the opportunity to try out cult entertainment without any risks.
Hit it Rich! is a platform for great slot machines that you can download for free and enjoy the games. The app contains the best world cult games and any player or simple Internet user will like them.
There are The Wonderful Land Of Oz, Ted, The Sound Of Music, Elvis Multi Jackpot, etc. You can play seriously with the hit The Terminator, for the lovers of cranberries and glamor – Sex And The City, also do not miss the opportunity to add original and all favorite Duck Dynasty.
Read also:
January Poker Tournaments: Try You Luck in a New Year
Hit It Rich! gaming machines have collected all the best games from different categories and each of them will find a fan. Aerosmith is a new addition to their collection with more than 100 names in it and you can download them at Google Play or App Store.
Aerosmith and the slot
The release of the new slot takes place simultaneously with the tour of Aerosmith 'The Aero-Vederci Baby!' across Europe, South America and the Middle East. During the tour you will be able to hear the most popular tunes of the band, the same as while playing the Hit It Rich slot.
Alongside with fantastic hits, you'll get a chance to win with bonus games, free spins and a lot more.
If you are interested in some other slots to play, The SpinRoom offers a wide range of free casino titles for you to enjoy.
Author of the publication:
Editor, Writer
Category of publication:
News
Publication date:
22.05.2017
Starburst
Play For Free
Immortal Romance
Play For Free
Mega Moolah
Play For Free
Twin Spin
Play For Free